Vortex
Aqualounge SwimSpa Pool
| | |
| --- | --- |
| Starting from: | £22,495 |
| Swim Pump Power: | 3 Performance Levels |
| Massage Positions: | Lounger & 4+ Seats |
| Massage Jets: | Up to 81 |
| Electrics: | 32 – 40 Amp |
| Dimensions: | 400 x 230 x 120 cm |
Key Features
Depth: 1.2 m only
Thermabond shell
Multi-layer Insulation
Timber free structure
Vortex Massage Jets
Aromatherapy
Adjustable Current

Great Warranty
Laminar Water Jets
Purezone filters
Thermal hardcovers
Option: Heat Pump
Option: Bluetooth Audio
Option: Chlorine FREE
Stock Status:
| | |
| --- | --- |
| Please contact us for availability |   |
With a Vortex® Swimspa Pool, you will benefit from swimming all year round.
A swim spa pool can be used 12 months of the year due to its high efficiency, easier maintenance and lower running costs in comparison to an outdoor pool.   In the UK an outdoor pool has a 4 month swimming season, from June until September. Subject to the weather conditions that year.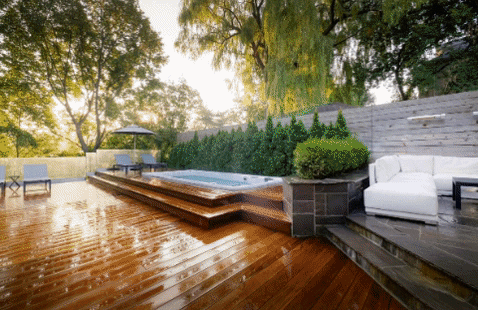 Swim Performance Levels:
The Aqualounge swim spa is available in three swim power options. All models have exactly the same seating layout and features, the only difference is the number of swim jets and the overall number of pumps which affects the power of water flow.
Pro

►►

 

Pro Plus 

►►

►

 

Extreme 

►►

►►

| | |
| --- | --- |
| Pro 1.2m deep from | £22,495 |

| | |
| --- | --- |
| Pro Plus 1.2m deep from | £22,795 |

| | |
| --- | --- |
| Extreme 1.2m deep from | £23,995 |

2 x Swim Jets
3 x Swim Jets
4 x Swim Jets
2 x 3hp Pumps
3 x 3hp Pumps
4 x 3hp Pumps
Total: 6hp
Total: 9hp
Total: 12hp
Swim Flow Rate: 1,200 Lpm
Swim Flow Rate: 1,800 Lpm
Swim Flow Rate: 2,400 Lpm
 

* LED illuminated swimjets part of HydroGlow option. Not Standard

 
 
What's Included & Optional Features:
Closed hidden
INCLUDES: FREE Site Visit, FREE Chemical Kit & FREE Customer Training
FREE Site Visit.
With every Vortex Swimspa purchased we offer a FREE site visit to check delivery access and advise the customer on the products chosen location within the garden.
FREE Chemical Kit.
Every Swimspa we install comes with a full chemical starter kit of the chemicals you will need to sanitise and maintain your water balance.  We will then train you in its correct care and maintenance.

FREE Customer Training.
1st Visit – delivery of the swim spa into position.  Then unpackage, clean and check before we begin to fill with customers water supply.  Your electrician will be on-site to connect the swimspa to the new power supply.
2nd Visit – usually the next day (if filled) we power up the swim spa, then train the customer in water maintenance, product functions and best practice.
3rd Visit – after you have had a week to enjoy the swim spa. A manager will return to undertake final training and listen to your feedback your overall experience.

YOUR PRIVATE SWIM TEST:
Open 7 days a week, please call to arrange
We have two swim spas filled, heated and ready for your to try.  Please contact us to arrange a private appointment.  This is done after 5 pm when we are closed so you are not on show to the public.  We will be here to welcome you and answer your questions. We have two different makes of Swimspa available to try.

DELIVERY OPTIONS:
Hiab Delivery from UK stockist to customer.

The Hiab lorry will deliver the swim spa to customers home and lift from its rear up and over and into position.   In 2021 Hiab delivery to customers costs 1,500 inc. VAT for postcodes NP, CF, HR, GL & LD.   £1,750 inc VAT for postcodes SA, SY, BA, WR.

 
 

Hiab Delivery to Site and Crane lift into position.

The Hiab will deliver the swim spa to the site where the hired crane will then lift off the back of the Hi-ab lorry and safely land in its final position.   We will provide quotations for the crane hire once a site visit has been undertaken. Hiab prices are stated above.

 
 

HiAb Delivery to Oyster, then we bring to the customer on a trailer.

When you live in a location with difficult access.  We can arrange for the Hiab to deliver the swim spa to Oyster Pools.  We can then hire a large flatbed trailer and 4 x 4 vehicles to tow the swim spa on a trailer to your home.    We can then also arrange the hire a machine on-site to lift from the trailer into position, such as a Telehandler.  Hiab prices stated above, all other hires of equipment will be quoted for.

 
 
HEATING OPTIONS:
INCLUDED: In-Line Electric Heaters: 3kW – 6kW – SpaNett™ thermal tuning.
All 2021 onwards Vortex Swimspas have fitted with SpaNett™ control system and thermal tuning. The Vortex control system will adapt and tune itself to the thermal properties of your spa pool and its environment, day to day, season to season, this will reduce 'on-demand heating.
OPTIONAL: SpaNett™ Air Souce Heat Pump – heating/cooling water.
Adding a Vortex Hybrid Heat Pump to your swim spa will give you the lowest possible heating costs. A conventional spa pool heater turns 1 kilowatt of electricity into 1 kilowatt of heat. The Vortex hybrid heat pump turns 1 kilowatt of electricity into 5 kilowatts of heat, giving you up to 4 kilowatts of heat for free! Even accounting for the cost of running your pumps, overall running costs will be reduced by more than 30%. Over the life of your swim spa, this will lead to savings of thousands of pounds in a lifetime of enjoyment.
COVER OPTIONS:
INCLUDED: Thermal covers
High quality thermal vinyl covers are included in the price of each Vortex Swimspa.  These covers come in sections that be lifted off and stored to use your swim spa. They are strong, durable and great at trapping the heat within your model when not in use.

OPTIONAL: Roll on, Roll off thermal cover. (On display on show site)
Revolutionary one-piece design makes a complete seal on top of the swim spa…locking in the heat, saving energy consumption and cost. The Cover design enables one person to roll the cover off the swim spa in less than 60 seconds…Accessing the pool for aqua therapy and fitness.  Manufactured with the highest quality commercial grade materials, providing a strong, durable, lockable safety cover.   Price Range starting from £4,400 upwards subject to the size of swim spa. Please contact us for a price for your preferred model.
OPTIONAL: Covana™ Legend. (On display on show site)
With the Covana Legend, your swim spa will be more accessible and easier to use than ever! In almost any weather condition, the cover can be retracted with the simple turn of a key and after only a few seconds, you can dive in and enjoy it without ever having to struggle with a cumbersome cover (It's fully automated!).  Prices start from £11,495 + delivery & fitting. Please contact us for a price for your preferred model.
FACTORY FITTED OPTIONS:
 
 

Ultra Violet (UV) system – Go Chlorine Free:  £750

The ultra-violet light sterilizing system can kill up to 99.9% of viruses and bacteria in spa water. Using a UV Sterilizer system will allow you to not require Chlorine to kill bacteria.

 
 

Arctic Pack Insulation Upgrade: £ 650

Arctic Installation is the ultimate level of insulation available. It increases the thickness of the perimeter insulation to 50mm, gives unsurpassed heat retention and the lowest possible running costs.

 
 

HydroGlow LED Jets: £ 800

By making each jet core translucent we were able to backlight it with multi-coloured, attractive LED lighting

 
 

WiFi App-Based Remote Control: £ 500

Control your spa remotely from anywhere in the world. All you have to do is select this Optional Added Feature and then download the phone app (Android or Apple). Take full control of your spa functions simply and remotely with SV SmartLINK

 
 

 
Vortex Swimspa - Design Ideas

This video is a great free resource for swim spa design ideas. It's packed with lots of great ideas you could use in your location and shows the whole process from start to finish.

A Guide to Running Costs

Based on our customer feedback on the Vortex Aqualounge model. We forecast an average electrical running cost of approximately £45 per month. Which is an average over the 12 months of the year. Therefore, it will be less during the summer and higher over the winter, but it will average out across the year.

Based upon:

15 p / kW / h
1 water change per year
33°C water temperature all year round
Cover on when not in use
Usage > Ave. 3 x 20-minute sessions per week

What Power Supply Will I Need?

The Vortex Aqualounge is configured to be a 32-40 Amp supply. Therefore, you will require a qualified electrician to connect the hot tub to an RCD protected standalone supply. Complete with an isolation switch.

Pro & ProPlus are 32 amp. The Extreme model is 40 Amp.
Additional Information
Fully reclined lounger

This model features a reclined lounger. This allows for total body immersion for a full hydrotherapy experience.

Individual jet controls

To give you the most control over your experience, each seat has individual jet controls. This means you can set it to your own comfort level.

Multi-coloured LED lighting

The bright multi-coloured LEDs are perfect for setting the tone for your evening. Alternatively, you can put it on colour change mode for a more upbeat, party atmosphere.

Built-in drinks holders

You will never be far away from your beverage as the Vortex swimspa features non-slip built-in drinks holders, so you don't have to keep hold of your drink or climb out to take a sip.

SMARTStream Bluetooth Audio System (optional)

SMARTStream Bluetooth audio with a sub-woofer. The hidden, state of the art transducer speaker system leaves the spa surfaces clear of obstacles and reduces moving parts.

Neck and shoulder therapy collars

This Vortex model has a built-in therapy neck collar. This means that not only will your neck and shoulders be cushioned but internal jets will massage and soothe at the same time.

Laminar Jets water feature

The laminar jets smooth and uninterrupted flow of water is both relaxing and mesmerising. It's also a 'splash-free' feature.

Sensual Aromatherapy System

Exclusive to our Vortex models. All you need to do is choose your favourite aromatherapy fragrances out of the 12 available and then enjoy breathing in the relaxing aroma whilst your muscles are being soothed by the powerful jets.

PureZone CD Ozone Water Clarifying System

This is one of the safest and most economical ways of cleaning the water as there a no harsh chemicals added to the water and the process doesn't affect the taste, smell or PH level of the water making it child safe.

Thermabond 4 layer shell construction

All Vortex model use a 4 layer, 8 step Thermabond lamination process not found in most spas. This process includes the curing of the shell in a temperature and humidity-controlled oven. This is absolutely vital if the shell of the spa is to last the lifetime of ownership.

Dual-layer insulation

The Vortex dual layer insulation covers both the outer cabinet and the shell. This is the most efficient way to insulate. The dual layer system keeps the heat from the pumps and plumbing, reduces noise and provides a warm layer between the water and the outside of the spa.

Built To Last:

Permaframe – is a timber-free design, is impervious to rot, mildew or vermin damage and is designed to last indefinitely.

Toughbase – is built strong enough to take the weight of the swim spa, water and people. It prevents vermin from getting inside the workings of your spa and is virtually indestructible to ensure years of trouble-free usage.

Duraflex plumbing – specially designed for use in high-performance swim spas. Duraflex incorporates a coil of rigid PVC within its walls that allows the piping to flex but not kink.
Specification
| Name | Aqualounge Pro | Aqualounge Pro Plus | Aqualounge Extreme |
| --- | --- | --- | --- |
| Size (cm) | 400 x 230 x 120 | 400 x 230 x 120 | 400 x 230 x 120 |
| Capacity / Seats | 4 seats | 4 seats | 4 seats |
| Jet Pump | 3hp x 2 | 3hp x 3 | 3hp x 4 |
| Programmable Circulation Pump | 250W | 250W | 250W |
| Swim Flow Rate | 1,200lpm | 1,800lpm | 2,400lpm |
| Total Jets (Stainless Steel) | 79 (2 Swim Jets) | 80 (3 Swim Jets) | 81 (4 Swim Jets) |
| Spa Controller | SpaNet­ Touch Screen | SpaNet Touch Screen | SpaNet Touch Screen |
| Variable Speed Air Blower | 1,000W | 1,000W | 1,000W |
| Variable Output Heater | 3kW max | 3kW max | 3kW max |
| Perimeter Insulation | √ | √ | √ |
| Dual-layer Insulation | √ | √ | √ |
| Intelligent Thermal Tuning | √ | √ | √ |
| Thermobond, 4 Layer Shell Construction | √ | √ | √ |
| Thermoclad Cabinet | √ | √ | √ |
| Purezone Micro Filtration | √ | √ | √ |
| Purezone Ozone Water Clarifier | √ | √ | √ |
| Purezone UV Water Purifier | √ | √ | √ |
| Duraflex Plumbing | √ | √ | √ |
| Moulded, High Impact Base | √ | √ | √ |
| Spa Health Indicator | √ | √ | √ |
| Adjustable Aromatherapy | √ | √ | √ |
| Water Cascade | √ | √ | √ |
| Underwater Flood Lighting | √ | √ | √ |
| Lockable Hard Cover | √ | √ | √ |
| Neck Therapy Collar | √ | √ | √ |
| Stainless Steel Jets | √ | √ | √ |
| Backlit Laminar Jets | √ | √ | √ |
| Hydroflow Stainless Steel Jets | √ | √ | √ |
| Hydroglow Jet LED Lighting | √ | √ | √ |
| Individual Seat Pressure Controls | √ | √ | √ |
| Backlit Drink Holders | √ | √ | √ |
| Perimeter and Cabinet Lighting | √ | √ | √ |
| Hybrid Heat Pump | Optional | Optional | Optional |
| Hydravibe Bluetooth Stereo System | Optional | Optional | Optional |
| Wifi App-based Remote Control | Optional | Optional | Optional |
| Arctic Pack Insulation | Optional | Optional | Optional |
| Electrical (max) | 32amps | 32amps | 40amps |
| Dry Weight | 900 kg | 900 kg | 900 kg |
| Filled Weight | 7,200 kg | 7,200 kg | 7,200 kg |
| Water Volume | 6,300 L | 6,300 L | 6,300 L |
| Name | Aqualounge Pro | Aqualounge Pro Plus | Aqualounge Extreme |
Warranty
| Warranty | Aqualounge |
| --- | --- |
| Frame | 10 years |
| Shell structure | 10 years |
| Acrylic surface | 5 years |
| Plumbing, Heater & Jet * | 5 years |
| Pump & Equipment * | 2 years |
*First 12 months includes parts and labour cost. After 12 months parts only. Full written details on request.
Contact us today
Book a virtual tour
Need help deciding?
We are here to help