Jacuzzi®­
J-13™ Swimspa Pool
| | |
| --- | --- |
| Price Range From: | £23,499 |
| Swim Pump Power: | 1 x 3 hp |
| Massage Pumps | 2 x 3 hp |
| Massage Positions: | 9 Seats |
| Massage Jets: | 35 x PowerPro™ |
| Electrics: | 32 Amp |
| Dimensions: | 381 x 236 x 135 cm |
Key Features
Enjoy All Year Round
Family Fun & Relaxation
Dual Swim Jets
9 x Hydromassage Seats
Automatic Filtration
Chlorine FREE Water
Low Running Costs

Soft Stride Matting
LED Coloured lighting
Adjustable Waterfall
Dual Insulation
ProFusion™ Shell
Galvanised Steel Frame
Propolymer™ Base
| | |
| --- | --- |
| Please contact us for stock availability or to arrange a private swim test. |   |
With a Jacuzzi® Swimspa Pool, you will benefit from swimming all year round.
A Jacuzzi® swim spa pool can be used 12 months of the year due to its high efficiency, easier maintenance and lower running costs in comparison to an outdoor pool.   In the UK an outdoor pool has a 4 month swimming season, from June until September. Subject to the weather conditions that year.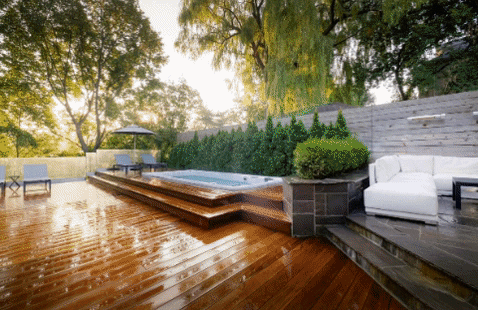 Performance of J-13™ PowerPlay Swimspa.
J-13™ PowerPlay™

 

 
2 x CX Swim Jets
2 x 3 Hp pumps for Massage
1 x 3 HP pump for Swim
Total: 9 HP
 
What's Included & Optional Features:
Closed hidden
INCLUDES: FREE Site Visit, FREE Chemical Kit & FREE Customer Training
FREE Site Visit.
With every Swimspa purchased we offer a FREE site visit to check delivery access and advise the customer on the products chosen location within the garden.
FREE Chemical Kit.
Every Swimspa we install comes with a full chemical starter kit of the chemicals you will need to sanitise and maintain your water balance.  We will then train you in its correct care and maintenance.

FREE Customer Training.
1st Visit – delivery of the swim spa into position.  Then unpackage, clean and check before we begin to fill with customers water supply.  Your electrician will be on-site to connect the swim spa to the new power supply.
2nd Visit – usually the next day (if filled) we power up the swim spa, then train the customer in water maintenance, product functions and best practice.
3rd Visit – after you have had a week to enjoy the swim spa. A manager will return to undertake final training and listen to your feedback on your overall experience.

YOUR PRIVATE SWIM TEST:
Open 7 days a week, please call to arrange
We have two swim spas filled, heated and ready for your to try.  Please contact us to arrange a private appointment.  This is done after 5 pm when we are closed so you are not on show to the public.  We will be here to welcome you and answer your questions. We have two different makes of Swimspa available to try.

DELIVERY OPTIONS:
Hiab Delivery from the UK warehouse to the customer.

The standard reach Hiab lorry will deliver the swim spa to customers home and lift from its rear up and over and into position.   In 2022 Hiab delivery for Jacuzzi® customers is £1,500 inc. VAT.

 
 

Hiab Delivery to Site and Crane lift into position.

The Hiab will deliver the swim spa to the site where the hired crane will then lift off the back of the Hi-ab lorry and safely land in its final position.   We will provide quotations for the crane hire once a site visit has been undertaken. Hiab prices are stated above.

 
 

HiAb Delivery to Oyster, then we bring to the customer on a trailer.

When you live in a location with difficult access.  We can arrange for the Hiab to deliver the swim spa to Oyster Pools.  We can then hire a large flatbed trailer and 4 x 4 vehicles to tow the swim spa on a trailer to your home.    We can then also arrange the hire a machine on-site to lift from the trailer into position, such as a Telehandler.  Hiab prices stated above, all other hires of equipment will be quoted for.

 
 
OPTIONAL FEATURES:
OPTIONAL: Steps
We have 3 types of access steps available to facilitate the entry and exit of your swim spa.   The smaller plastic three tread steps. 24″ high to the top step. Extends 39″ out from the spa. Treads are 12″ deep by 36″ long. 300lb weight limit.
We also offer the larger aluminium & steel 3 tread platform steps with handrails or the 4 tread version with 2 handrails. 12″ x 35″ wide treads with slip-resistant pads for added safety. Powder-coated aluminium frame with polymer treads. Tested up to 800 lbs


OPTIONAL: Rowing Kit.  48″ Exercise Bar.  Aquatic Fitness Package
COVER OPTIONS:
INCLUDED: Thermal covers
High-quality thermal covers are included in the price of each Jacuzzi® Swimspa.  These covers come in sections that be lifted off and stored to use your swim spa. They are strong, durable and great at trapping the heat within your model when not in use.J-19 = 6 sections.   J-16 = 5 Sections.   J-13 = 4 Sections.

OPTIONAL: Roll on, Roll off thermal cover. (On display on show site)
Revolutionary one-piece design makes a complete seal on top of the swim spa…locking in the heat, saving energy consumption and cost. The Cover design enables one person to roll the cover off the swim spa in less than 60 seconds…Accessing the pool for aqua therapy and fitness.  Manufactured with the highest quality commercial grade materials, providing a strong, durable, lockable safety cover.   Price Range starting from £4,400 upwards subject to the size of swim spa. Please contact us for a price for your preferred model.
OPTIONAL: Covana™ Legend. (On display on show site)
With the Covana Legend, your swim spa will be more accessible and easier to use than ever! In almost any weather condition, the cover can be retracted with the simple turn of a key and after only a few seconds, you can dive in and enjoy it without ever having to struggle with a cumbersome cover (It's fully automated!).  Prices start from £11,495 + delivery & fitting. Please contact us for a price for your preferred model. 
A Guide to Installation & Enjoyment.

See how Olympic Gold medalist Sally Gunnell OBE's Jacuzzi® Swimspa was designed and installed in her family home.

A Guide to Running Costs

Based on our customer feedback on the Jacuzzi
J-13™ model. We forecast an average electrical running cost of approximately £55 per month. Which is an average over the 12 months of the year. Therefore, it will be less during the summer and higher over the winter, but it will average out across the year.

Based upon:

15 p / kW / h
1 water change per year
33°C water temperature all year round
Cover on when not in use
Usage > Ave. 3 x 20-minute sessions per week

What Power Supply Will I Need?

The Jacuzzi® J-13™ is configured to be a 32 Amp supply. Therefore, you will require a qualified electrician to connect the swim spa to an RCD protected standalone supply. Complete with an isolation switch.
Additional Information
A Gentle Swim.

REFLECTIVE HIPS A unique shell design incorporates hips to stop reflective waves, so you can always enjoy a gentle swim from the two CX swim jets powered by one 3 hp pump.

A Garden Fun Pool.

The J-13™ has the space and depth you need to use it as a family fun pool in your back garden.

Hydromassage Seating.

With the combination of versatile PowerPro™ Jets and our ergonomically designed seats, our products deliver an adjustable high-flow, low-pressure hydromassage and a powerful swim experience.

Clean water – Chlorine FREE.

CLEARRAY Active Oxygen™ technology harnesses the power of air and light to work harder and clean the water longer. It's an advanced oxidation process that destroys contaminants and waterborne pathogens. Combining Clearray with the 4 Stage filtration process allows you to enjoy Chlorine-free water.

Build Quality.

Jacuzzi® Swim Spas are designed for reliability, both inside and out. Our products are exceptionally engineered with the best materials to ensure an exceptional product.

PROFUSION™ SHELL – Three layers of material for a strong, scratch-resistant shell.

SMARTSEAL™ TECHNOLOGY – Heat-reflecting insulation made for the coldest winters.

PROLAST™ COVERS – Custom fit to lock in heat and improve energy efficiency and safety

GALVANISED STEEL FRAME – Designed for durability and increased structural support

DURABLE PROPOLYMER™ BASE – Impervious to nature and moisture, and makes installation easy

PROENDURE™ SYNTHETIC CABINETRY – Stunning, durable, synthetic cabinetry

Energy Efficiency.

The combination of a strong shell, foam insulation, SmartSeal™ insulation, insulated floor and fully-adjustable venting help boost eco-efficiency. Each PowerPlay swim spa has 3kW's of inline heating to efficiently maintain your desired water temperature, up to 40°C

Soft stride matting

Soft, non-slip matting in the footwell makes aquatic exercises comfortable and safe underfoot.
Specification
| Name | J-13™ PowerPro |
| --- | --- |
| Size (cm) | 381 x 236 x 135 |
| Capacity / Seats | 9 seats |
| Massage Jet Pumps | 2 x 3 HP |
| Swim Jet Pump | 1 x 3 HP |
| Circulation Pump | Yes |
| Total Massage Jets | 35 PowerPro™ |
| Swim Jets | 2 x CX Swim Jets |
| Buoyancy Jet | NO |
| Heater | 1 x 3kW |
| Pump Diverter Handles | 1 |
| FORM Goggles Wearable Technology | NO |
| Swim Selector Control | NO |
| LCD Control Panel | 1 |
| Pro-Last Covers | 2 SectionS |
| Usable Swim Area | 244 cm |
| Electrical (max) | 32 amps |
| Dry Weight: |  981 kg |
| Filled Weight: | 6,073 kg |
| Water Volume: |  5,093 Litres |
Warranty
| Jacuzzi® Warranty | J-13™ |
| --- | --- |
| Frame |  10 years |
| Cabinet |  5 years |
| Acrylic surface | 5 years |
| Plumbing, Heater & Jet * | 3 years |
| Pump & Equipment * | 3 years |
*Warranty includes parts and labour cost. Full written details on request.
Contact us today
Book a virtual tour
Need help deciding?
We are here to help